Why is verifying my settings important?
Our advice for synced leagues is customized to your league settings. While most league settings will be captured automatically from your league host, some settings will need to be manually adjusted. Incorrect league settings can result in you not receiving our best advice when using our tools.
How can I verify my settings?
Please start with the links below.
NFL Draft Wizard®️ > My Leagues
MLB Draft Wizard®️ > My Leagues
NBA Draft Wizard®️ > My Leagues
Once on the My Leagues page, please click the "View" link for the league you want to adjust.
Then, click the "Edit" link next to Settings.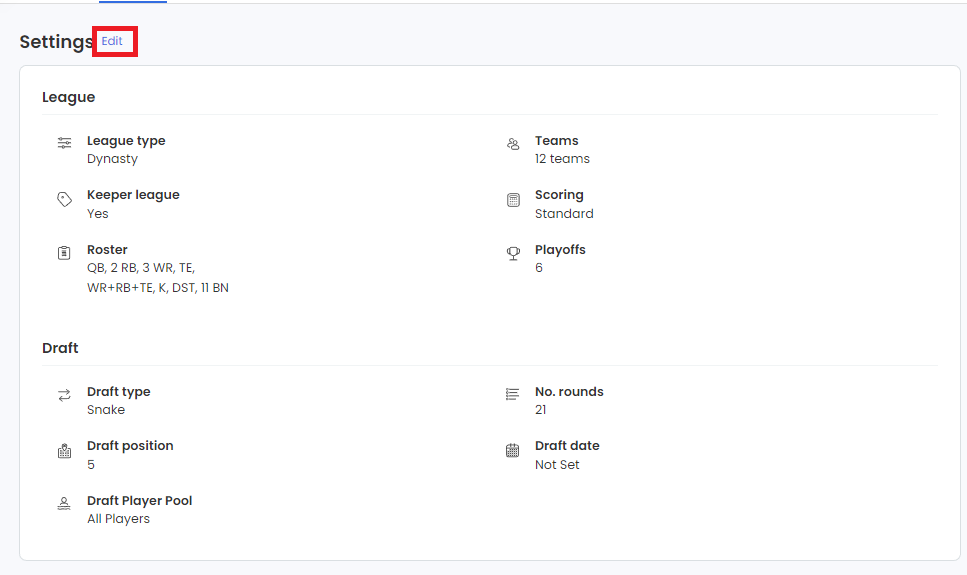 Here you can adjust the following settings:
Draft Type (Snake, Linear, 3rd Round Reversal, or Salary Cap)
Roster Positions
Scoring System
League Type (Keeper or Redraft)
Dynasty League Options (NFL-only)
Please note, that if you already have a Draft Assistant open, you will not be able to edit your league settings. Please delete the open Draft Assistant in order to make any changes to your league.
If you need any assistance with your league settings, please reach out to our support team and we'll gladly help you out.