This feature is available as of Nov 27, 2019.
We transform our expert consensus rankings using an algorithm that factors in historical player performance, along with a model that quantifies the ways in which individual players accumulate their statistics, to create detailed projections for each player. Taking into account your league's custom scoring settings, player projections are then tailored for your league.
If your league has non-default settings (anything straying from your default STD, .5 PPR, and PPR settings found on your league host site) and you are a Premium subscriber, your rankings (and the tools that are powered by them) will reflect those non-default settings.
For example, if you play in a default .5 PPR league, where all offensive players receive .5 fantasy points per reception, but want to give more credit to Tight End receptions by giving them 1.5 PPR, the flex rankings you view will give a boost to pass-catching TEs relative to WRs and RBs.
Note: Custom scoring is not automatically enabled. To enable custom scoring settings, go to your league settings screen (accessible via the "Settings" link under "League" in My Playbook or via the My Leagues screen). Next, select "Custom" in the "Scoring System" dropdown.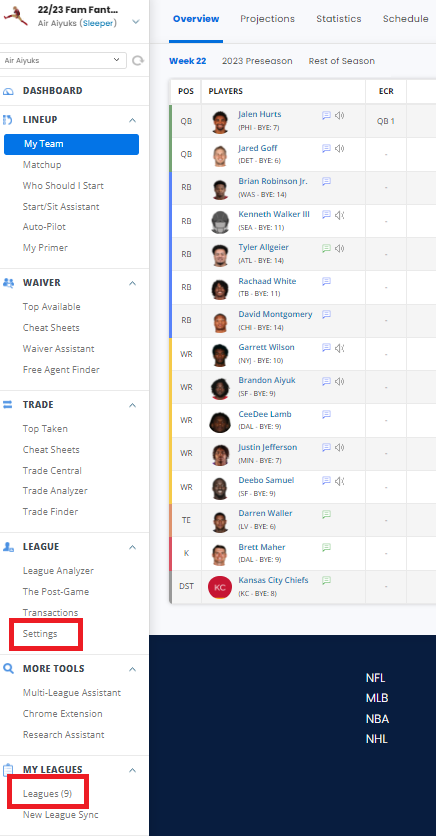 Once enabled, you can then update your league's scoring settings. Click "Save" and, upon returning to My Playbook, all rankings and tools will be updated.
Customizable scoring settings include the following:
Passing
pts per Passing TD
pts per X Passing Yards
pts per Int Thrown
pts per Pass Attempt
pts per Pass Completion
bonus pts > 300 Pass Yards
bonus pts > 400 Pass Yards
pts per X Pass Completions
Receiving
pts per Receiving TD
pts per X Receiving Yards
pts per WR Reception
pts per RB Reception
pts per TE Reception
bonus pts > 100 Receiving Yards
bonus pts > 200 Receiving Yards
Rushing
pts per Rushing TD
pts per X Rushing Yards
pts per Rush Attempt
bonus pts > 100 Rushing Yards
bonus pts > 200 Rushing Yards
pts per X Carries
Other
pts per Return TD
pts per Fumble Lost
pts per 2 point conversion
bonus pts > 100 Combined Rushing + Receiving Yards
bonus pts > 200 Combined Rushing + Receiving Yards
Tools with Enhanced Support
The following My Playbook NFL tools take full advantage of custom scoring (currently web only):
Dashboard
Matchup
Who Should I Start?
Start/Sit Assistant
Auto-Pilot
Top Available
Cheat Sheets (Waiver + Trade)
Waiver Assistant
Trade Analyzer
Trade Finder
Power Rankings
League Analyzer