Auto-Pilot gives you the option of having your lineup changes submitted automatically each week. The lineup changes can be for inactive players only (e.g. an RB is deemed "Out" 30 mins prior to kickoff, so we'll swap in a bench RB for you) or your full optimal lineup based on the latest Expert Consensus Rankings.
Enabling Auto-Pilot
By default, Auto-Pilot is disabled. To enable Auto-Pilot for a league, check the "Turn on Auto-Pilot" box in the Auto-Pilot area of My Playbook.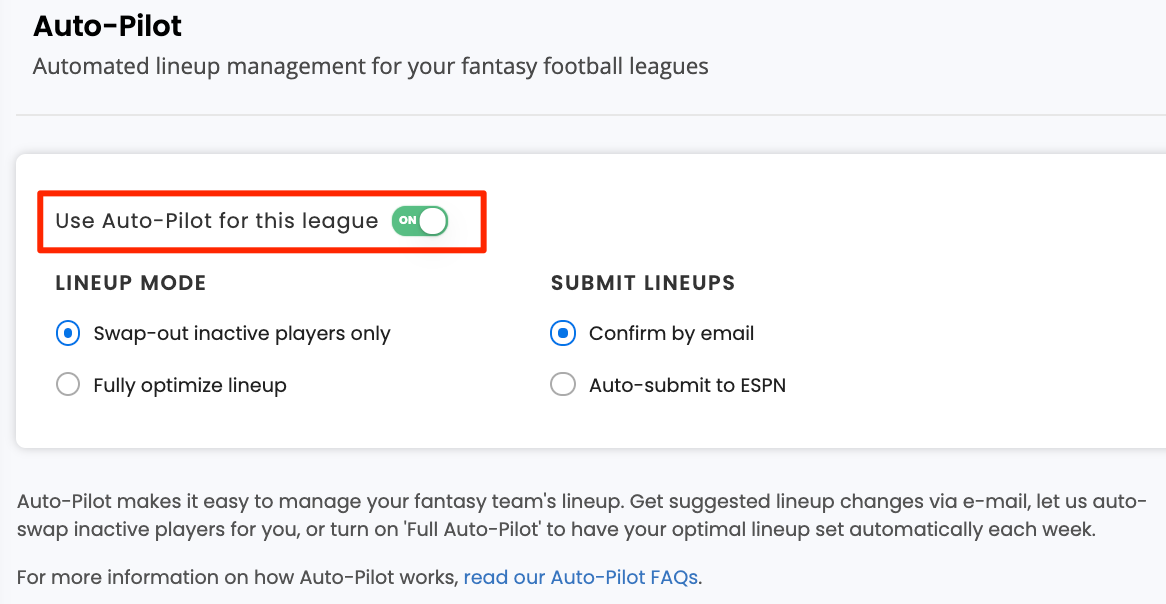 There are two ways to use Auto-Pilot:
Swap Inactive Players Only (default): My Playbook will automatically swap out (or suggest lineup changes for) inactive players only.
Full Auto-Pilot: My Playbook will automatically submit or suggest the optimal lineup based on the latest Expert Consensus Rankings;
If you want to make sure our lineup suggestions look good before we submit them, enable the "Confirm by Email" option. This will send an email to the address associated with your FantasyPros user account before any lineup changes are made. You will be able to click a link in the email to review and submit the updated lineup.
Enabling "Auto-Submit to [Your League Host]" means you will allow My Playbook to automatically submit the lineup; you will receive an email notification with the changes that were made.
Auto-Pilot checks your lineup at least twice a day (except for Tuesdays) and also in the hour before games start. The Swap Out Inactives mode starts running on Thursdays as player statuses are updated.
Specifying Which Leagues Run on Auto-Pilot
You can also specify the leagues that will have Auto-Pilot enabled. If you have multiple leagues synced, change to the league you want to update using the league switcher in the upper righthand corner. Each league will have its own Auto-Pilot settings.
There are two ways to enable Auto-Pilot in our My Playbook mobile apps (available to all users on Android and iOS):
1. From the team selection dropdown at the top of most screens;
2. Via the side menu next to each league name.
What if I Don't Agree With the Auto-Pilot Changes?
If you've elected to have lineups auto-submitted to your league host, you'll receive an email notification when we make changes. Simply click the 'Revert Lineup Changes' button in the email to undo any changes Auto-Pilot has made.
If you've set Auto-Pilot to confirm changes by email then there's no need to take any further action - you can simply ignore the email and your lineup won't be changed.
Supported Leagues
Auto-Pilot currently works for the following leagues: Yahoo, ESPN, NFL.com, CBS, MyFantasyLeague.com and has limited functionality with Sleeper.
How To Get Auto-Pilot
Auto-Pilot is currently available for all MVP, HOF, and GOAT level premium users. You can subscribe to FantasyPros Premium here.
You can access Auto-Pilot here.
Keywords: autopilot, auto, pilot