There are 2 ways to add salary cap values to your cheat sheet. In both options, MVP, HOF, and GOAT members will be able to edit the dollar values and customize their cheat sheet to league settings.
1. Click on the Salary Cap Calculator and enter your league info (or select your league in the "Standard (default)" drop-down box in the top right of your screen) to create a salary cap cheat sheet geared to your league settings.
2. Create a cheat sheet using the Cheat Sheet Creator. While on the view/edit screen, click the ellipsis in the top right corner of the screen. Now select, Add Salary Cap Values.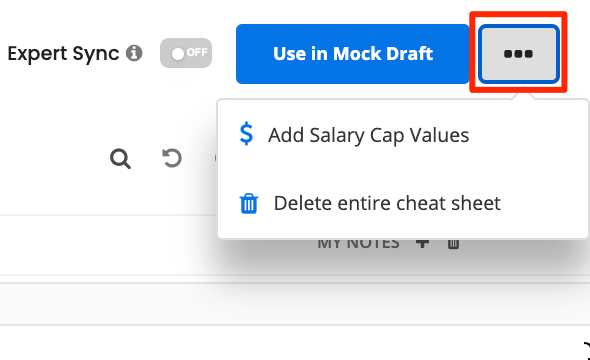 On the next screen, adjust any values you'd like to change and click Save Salary Cap Values. Please note that once you save, the players' order will change in your rankings according to the new values.